General:
Our philosophy and most important motivation is to help you experience the stunning and fantastic world of underwater fluorescence. Fire Dive Gear provides you with high quality gear for fluorescence diving - primarily for a small budget with built-to-order gear to best suit your individual needs, and of course with lots of information and tips around fluorescence diving. We aim to be less expensive and yet to offer better value than other manufacturers.
Please take a look at our store for our entire product listing.
See the page about technology for an explanation of how the products listed below work and interact.
Contrary to most other vendors, we experiment a lot and test our own gear extensively in order to fine-tune it for optimal results. We operate a state-of-the-art research laboratory and have in-house production engineering facilities to meet nearly any custom need you may have. We do this out of passion for underwater fluorescence and for fun, never mind the costs. This is simply too expensive for other manufacturers to do.
Important Product Shopping Information: Read Before Ordering
The state-of-the-art technique for observing underwater fluorescence uses blue light, not ultraviolet (UV) or black light.
The minimum equipment you will need in order to observe underwater fluorescence is:
This is because unlike UV, blue light is not invisible to the human eye; without the filter you will therefore not be able to see the fluorescence because it will be overwhelmed by the ambient light.
Also Recommended:
A mask strap wrapper is highly recommended. This prevents loss of the mask filter to the abyss (like when doing a giant stride entry off the back of a boat).
A camera filter for photography or filming.
When using strobes you will also need:
Below is a schematic representation of how the above mentioned equipment is used to create the the fluorescent emissions you desire to either see or capture with a camera.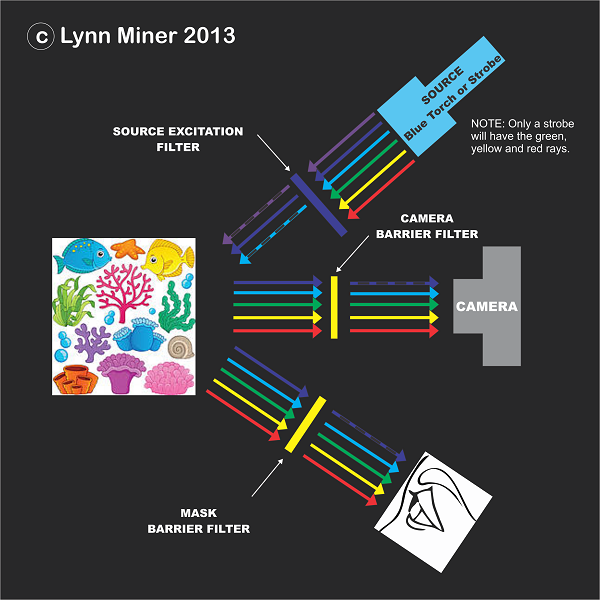 Please also visit the:
Order page for information about placing an order.
Customers often ask why we don't have a shopping cart where you simply select the items you want, pay for them and be done with it. Experience has shown that the vast majority of all the people who come to this site are new to the concept of fluo diving and either don't understand what they need to get started or they don't have a good feel for what the best gear is for the application they want to undertake. We want to sell you what you need the first time.
We'd rather sell you nothing than sell you something you don't need or is not suitable for your application(s).
Consequently, we ask that you send us an email with your choices and a brief description of your intended use.
Dive/Tour Guide or Dive-Master leading a group
Just a lone observer wanting to experience fluorescence diving
Photographer

Macro
Distance
Strobe
Video Light

Videographer
A combination of the above
Each of these applications require different hardware to some extent so we need to know how you intend to use it to recommend the best and most cost effective gear to buy. More often than not we end up recommending a setup at lesser cost than what you may have selected.
Please note that our torches and filters are carefully tuned to complement and match each others properties. Mixing fluorescence diving equipment from different manufacturers is therefore likely to give frustrating results.
Prices:
New prices (as indicated below) are effective starting on the 1st of January 2015. These new prices will not affect orders which have been placed before this date.
Please contact us for the most recent lowest available prices!
Please note that items with prices in US Dollars ($) are available from the USA,
whereas items with prices in Euros (€) are available from the Netherlands (Europe).
Some items are available from both locations.

Enter the FireDiveGear Store